Too often, college students have given up great food in favor of quick and cheap eats to fuel late-night study sessions, scarfing down enough calories to last until the dining hall opens again for breakfast.
Today, finding an affordable meal is harder than ever. First, inflation has meant that the cost of eating out is up 8.6% over 2021, and the war in Ukraine has helped balloon the cost of frying oil 53%. Depending on your location, a buck may only get you a small McDonald's ice cream cone these days. Truly cheap, amazing, fast-food eats are becoming the unicorns of college life.
But student budgets haven't gone away, and fast-food eateries remain favorite spots to grab an extra meal on the cheap. Because one cannot live on cones alone (really, don't try), we decided to compare the reviews of fast-food spots within a 2-mile radius of America's college campuses to find out who's eating fast, cheap, and good.
Big Takeaways:
Blaze Pizza is spreading like wildfire. It takes the top spot across the country as the most popular national chain (with 20 #1 rankings) within close proximity to college campuses across the nation. Next in line is Five Guys, followed by Jersey Mike's, Chick-fil-A, and Jimmy John's.

Sandwiches are the most popular national food type. Whether from shops from classic Jersey Mike's Subs to Potbelly Sandwiches, they are the highest-rated grab-and-go category nationally with 30% of college towns giving their highest rating to a sandwich shop.

The West prefers Jersey: East Coast original Jersey Mike's is hugely popular on the West Coast, with 7 schools calling it the best in town, and dominating the highest-rated food category — sandwiches. 5 West coast schools gave the award to Blaze Pizza instead.

There's no clear best in the Midwest: The region's most popular chains are Blaze Pizza and McDonald's, ranking highest in 4 university towns apiece. Sandwich shops Jimmy John's, Potbelly Sandwiches, and Pita Pit grab 3 spots each.

Blaze Pizza fires up the Northeast. Burgers are the top category, but can't compete with the west coast pizza chain that gets top rankings in 4 college towns.

Five Guys classic burgers dominate the South, with 10 college towns saying its burgers are A1. Sandwiches are the most popular food type overall, with 15 college towns giving their top ranking to a sandwich shop.
Nationwide — Which Fast Food is The Most Popular?
Blaze Pizza is the Country's Most Popular Fast Food Chain
Of our 144 universities, 20 gave the nod to Blaze Pizza, followed by Five Guys (19) and Jersey Mike's (16). Tied for 4th are Jimmy John's and Chick-fil-A. They're the favorites in 11 college towns apiece.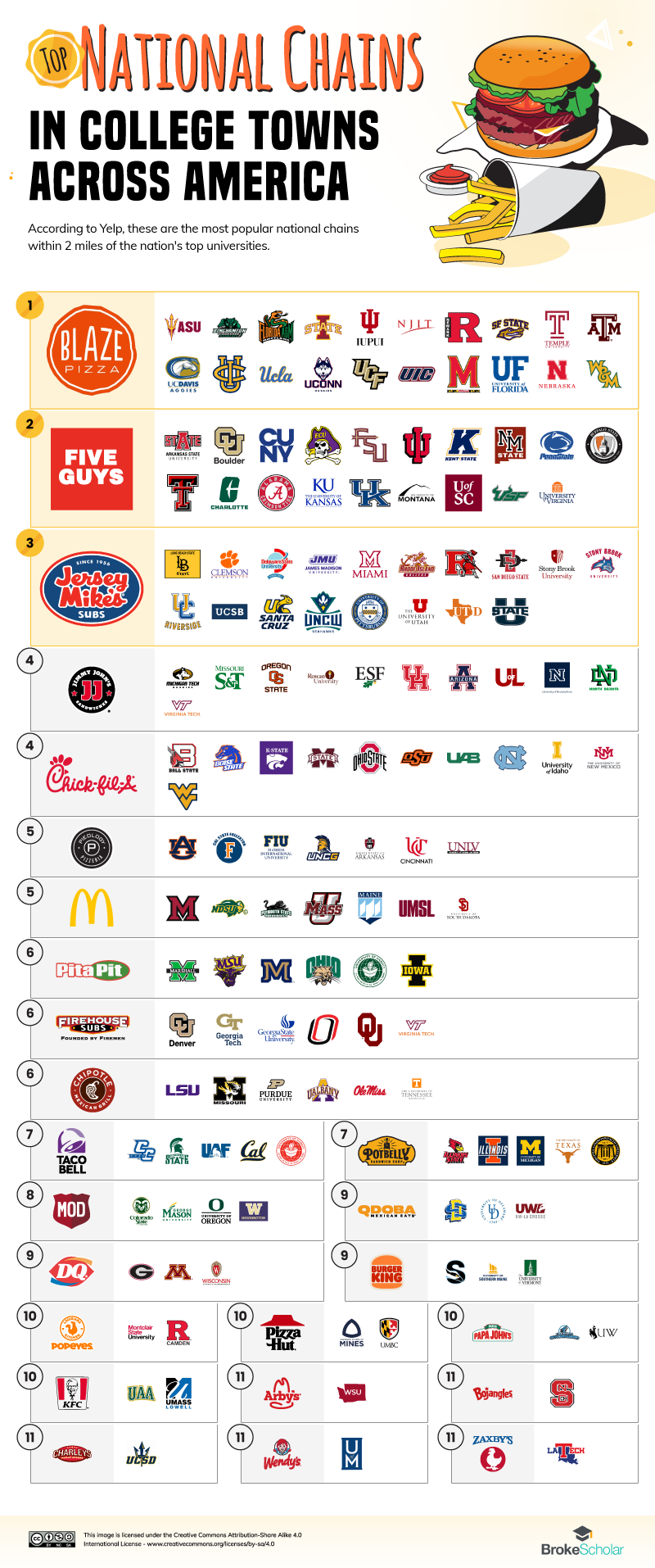 Not only does Blaze take the top spot at the most universities, it comes with some of the highest ratings nationally, too. Seven Blaze locations get 4.5 out of 5 starts at their location on Yelp (no national or regional chain favorite scored 5 out of 5 stars). In second place, Jersey Mike's grabbed just three 4.5-star rations from the schools where it was the top local favorite.
Newcomers like Blaze Pizza are surging ahead in many college towns. That could be because the upstart capitalizes on young people's increasing demand for environmentally sustainable products and responsibly-sourced ingredients, and chains like Blaze have renounced artificial colors for the peppers and olives they serve up, and committed to eco-friendly packaging.
But some students aren't jumping on the bandwagon yet.
For example, at the University of Wyoming, 1980s titan Papa John's reigns supreme. At Colorado School of Mines, and the UMBC Baltimore, students dream of Pizza Hut, which has kept co-eds full and happy since its early days as a college hangout in the 1950s. And old standbys like McDonald's, Taco Bell, Kentucky Fried Chicken, and Dairy Queen are still pulling rank.
Any Way You Slice It, Sandwiches are the Most Popular Fast Food Type
While pizza is blazing across the country, students are more likely to line up for sandwiches, the most popular fast food category overall.
Forty-six of the 145 most popular national fast-food eateries are serving sandwiches. That could be because they dominate the grab-and-go atmosphere of college campuses, to begin with, or that they're doing a great job of keeping students happy with great service.
Whatever the secret sauce may be, sandwich shops are multiplying. For example, Jersey Mike's opened 250 new stores in 2021 alone and successfully won over college towns from Providence, near Rhode Island College, to San Diego.
Jimmy John's has also expanded at a breakneck pace, averaging 150 new stores per year since 2010. The franchise got its start in locations near Illinois universities, with marketing strategies that involved giving away bite-sized free sandwiches on campus.
In short: sandwich franchises tend to spread like mayonnaise, especially around college campuses.
Jersey Mike's takes the top spot by student reviews, but it can be pricey. It offers a "mini" 5" Turkey Provolone for $5.45. But Jimmy John's gives students 3 more inches with their 8" Turkey Tom for almost the same price ($5.50).
Sandwiches can be a perfect, on-the-go option for college students, but there are plenty of other options. After sandwiches (46 schools), students opt for pizza (34) and then burgers (32). Chicken (15) and Mexican (14) are the least popular food categories, but each brings a steady fandom to the drive-through window. Chicken is particularly popular in the South, where national chains built to serve fried chicken take seven top ratings. Mexican fast food is also more popular in the South and Midwest, where it is more likely to take the top spot for national chains than elsewhere in the country.
The Most Popular National Fast Food Chains by Region
American students can't even agree on what to call their sandwiches, with some throwing their loyalty behind the po' boy, while others commit to subs, hoagies, or heroes. So it's logical that they also disagree about the best fast food in town.
We wanted everyone to have their say.
We started with the top 120 universities across the nation and added subsequently ranked universities from U.S. News and World Report until all states (except Wyoming) had two public, 4-year universities included. Then we turned to Yelp for the highest-rated fast food within a 2-mile radius from campus. We omitted universities without any nearby fast-food restaurants resulting in a total of 144 universities.
Then, we divided colleges into four regions: the West, South, Midwest, and Northeast. Which fast-food chains are students ranking highest in each, and which rule the entire nation?
Jersey Dreamin in the West
At the 39 western-region universities, sandwiches rule. Fifteen of these schools chose a sandwich shop as the best national fast-food chain near them. And 7 of those named Jersey Mike's, the East Coast staple, as their favorite chain.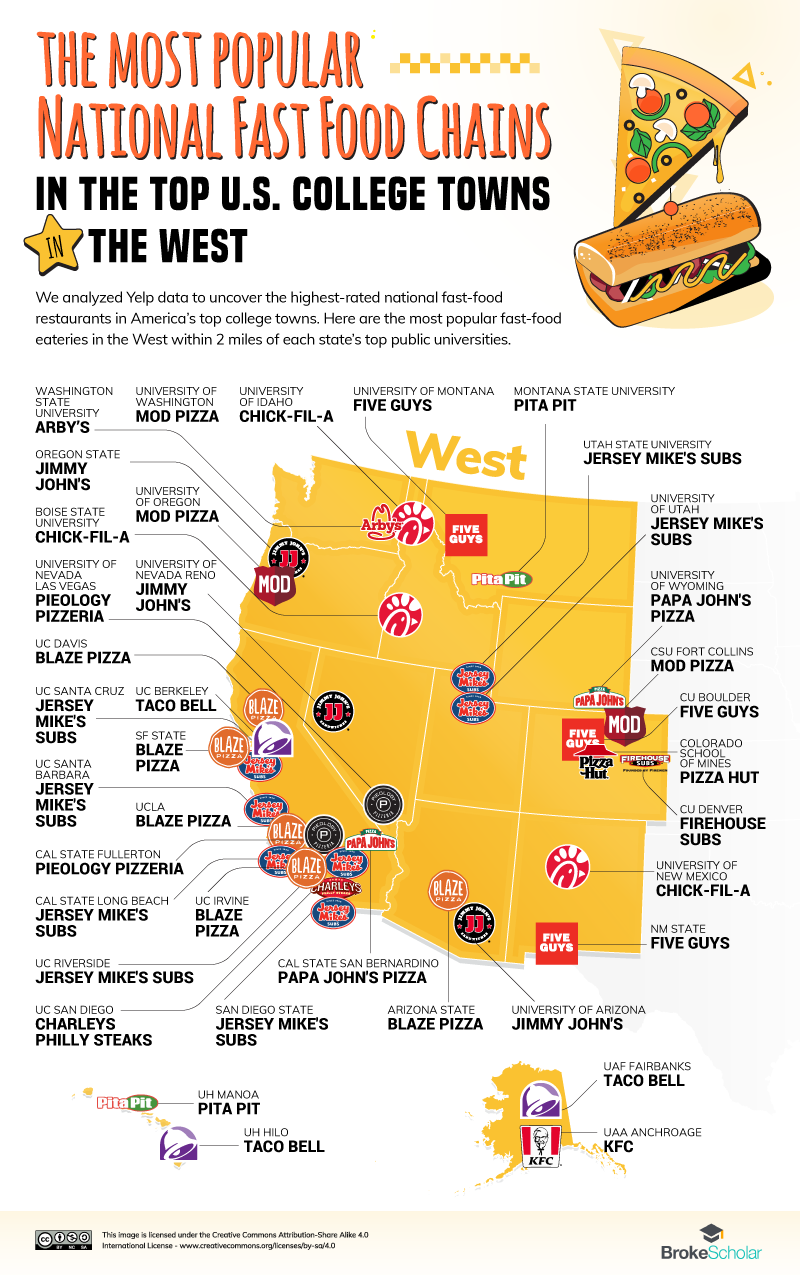 From San Diego State to Long Beach, Santa Cruz, and Salt Lake City, the chain has won over students with its promise to slice cold cuts fresh with every new order, not only ruling the sandwich category but taking the region's top spot for most popular fast-food restaurant.
Close on Jersey Mike's heels is up-and-coming Blaze Pizza, earning the top spot at five western schools. It's worth mentioning that the two restaurants look strikingly similar in spite of their different food categories: both allow customers to pick their toppings, allow unlimited choices (Jersey Mike's does charge for some premium options), and assemble each order individually, for a one-of-a-kind meal.
Blaze's quick-fired oven pizza hasn't been firing up its custom pies long. The franchise got its start in California in 2011, which explains why 4 of its 5 first-place rankings in the West are from the Golden State (the other is nearby Arizona State).
After basketballer LeBron James became an early investor, the chain expanded to over 400 national locations. That made Blaze the fastest-growing fast-food chain in history.
It may not be long until Blaze fever also spreads to other western states.
New Chains Pushing to Beat Old Standards in the Midwest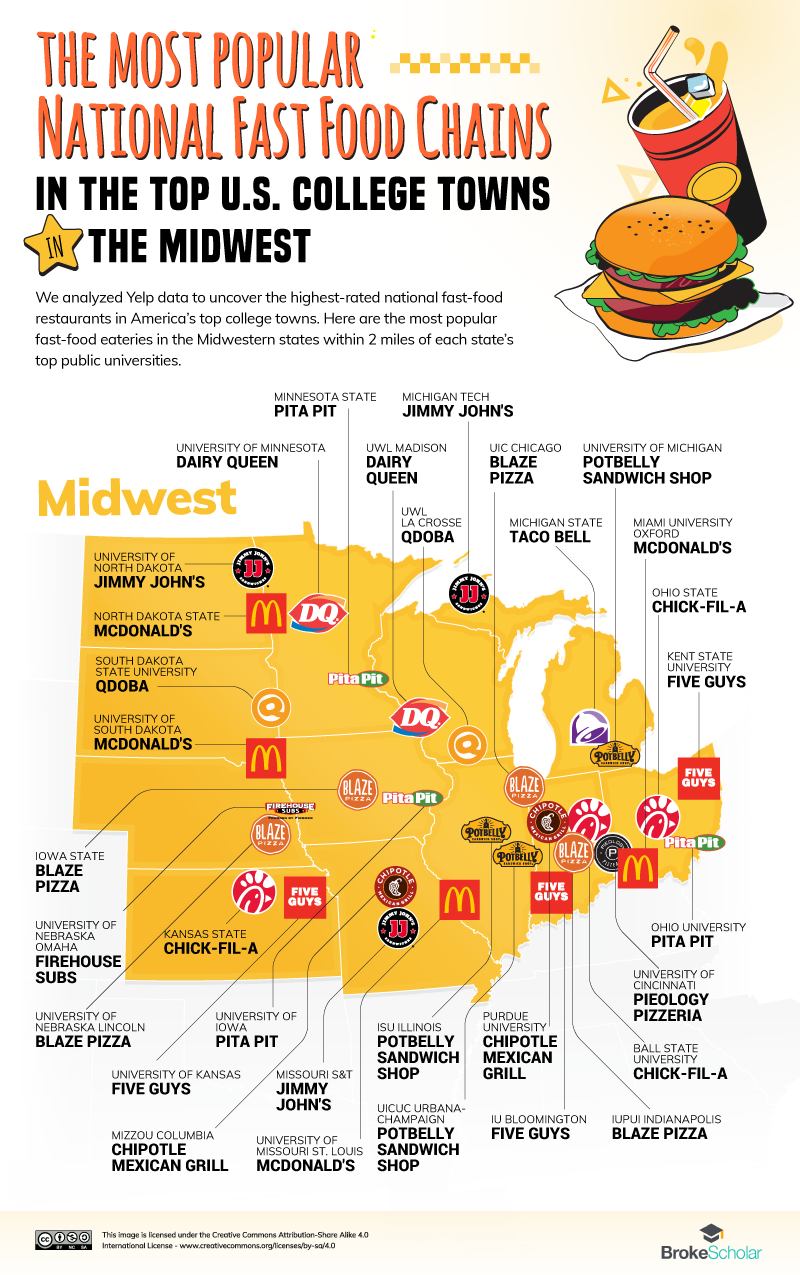 The Midwest suffers from a love of fast-food restaurants so deep and divided it may as well be a Big Ten football rivalry. Here, there are some clear contenders getting ready to take over campuses across the region. But they're not doing it yet. With so many top favorites, midwestern students are spoiled for great, highly rated fast food across multiple chains and categories.
But just like in the West, it's easy for midwestern students to make friends that can finish each other's sandwiches. At 10 of the Midwest's 32 total colleges, students give their highest reviews to sandwich shops, they just can't decide which franchise is best.
Three schools go for Jimmy John's, 3 others like Potbelly Sandwiches, and 3 more vote for Pita Pit. Hey, University of Nebraska Omaha – we see you giving your love to outlier Firehouse Subs.
With the sandwich vote split, the Midwest doesn't have a standout winner. Its co-champions aren't sandwiches at all. They're Blaze Pizza and McDonald's, which take the top spots at 4 schools each.
Blaze's biggest fans are students from the University of Nebraska Lincoln, Iowa State, UIC Chicago, and IUPUI Indianapolis said yes to the pie.
McDonald's fans also hail from 4 different states, with students from the University of Missouri St. Louis, Miami University Oxford, University of South Dakota, and North Dakota State University heading to the original American burger drive-in for Big Macs and Happy Meals.
Ultimately, the Midwest is a melting pot of fast-food culinary tastes. But watch out. New chains are gaining steam against old classics.
Blazing a Trail to the Northeast
Continuing to dominate, Blaze Pizza takes the regional prize, with 5 northeast schools calling it their favorite fast food. In fact, Blaze Pizza is the top fast food choice for Rutgers Newark and NJIT students, beating out local contender Jersey Mike's.
The famous sub shop takes its runner-up title, with 4 top votes, including Rutgers Camden, just 40 miles from its original location.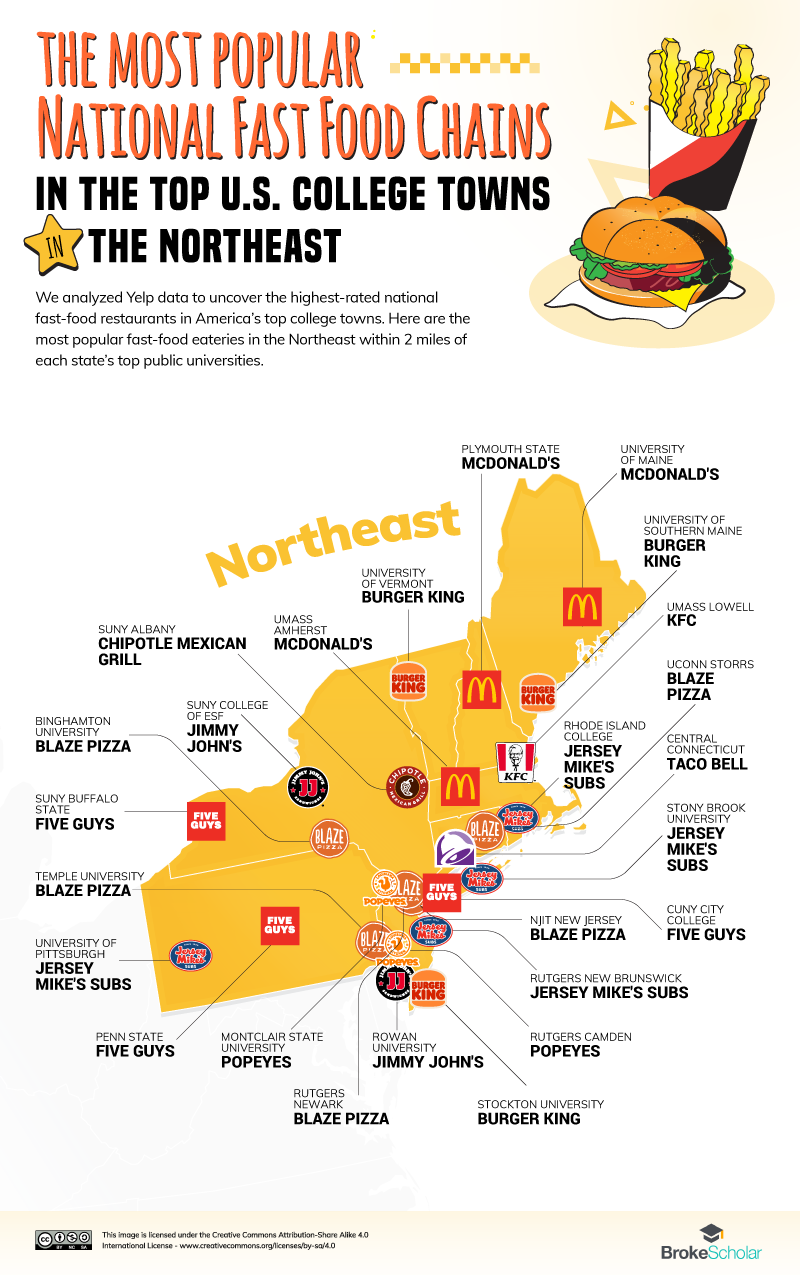 Both restaurants' top marks fly in the face of high regional devotion to burgers — it's the biggest fast food category at the 28 schools in the region. However, of those, there's no clear winner.
Students at CUNY City College, SUNY Buffalo, and Penn State swear by Five Guys. Their counterparts at Plymouth State, the University of Maine, and UMass Amherst are lovin' it at Mcdonald's. And Stockton University in New Jersey, the University of Southern Maine, and the University of Vermont prefer Burger King. The highest overall rating? Penn State Nittany Lions give that honor to their local Five Guys, which garners 4 out of 5 stars.
Beefing Up the South
Students in the South have a lot of food to choose from. The region's cities have been on a growth streak and interest in dining out has soared. Restaurant sales are hoppin'. And that means that students across the South are finding new chains on every corner looking to cater to their tastes.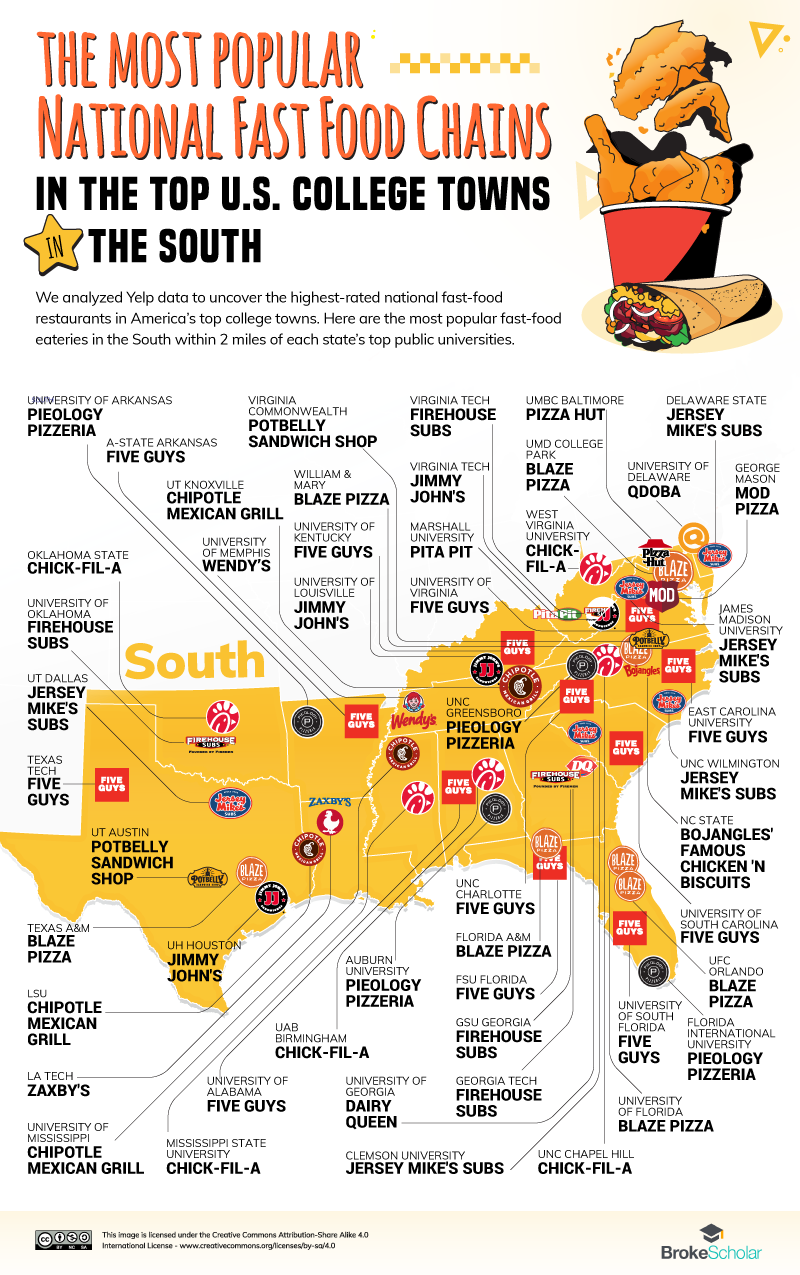 With all that choice, where do southern students turn when their stomachs rumble? When heading to a national chain, southern students overwhelmingly choose Five Guys. Built on the premise that a few high-quality burgers trump a menu the size of your Econ textbook, the chain won over ten schools across eight states in the region.
But in the South, it can be hard to resist a good Cuban sandwich, let alone a muffuletta or the perfect smoked barbecue. It's not hard to see how sandwich shops won over more cities in the south than any other food category. Fifteen of the 49 southern schools we analyzed backed the mighty sandwich. What was their favorite?
Five of those schools gave the prize to Jersey Mike's.
Regional & Local Takeaways
National chains cater to everyone's tastes, but we'd be crazy not to mention some of the truly unique regional and local eateries that keep college students well fed.
Regionally, Raising Cane's Chicken dominates the rankings. They're followed by Cook Out, Wings Over, and In-N-Out Burger.

Regional Faves Cook Up Burgers. They're the most popular with 44 college cities opting for burgers from regional chains. Fried Chicken comes in second with 32, and Mexican wins 10 top spots.

Local Chains Win More Hearts. Comparing national, regional, and local fast food options, local chains by and far receive the higher ratings on average and bring home 3 5-star ratings.
Which Restaurants are Regional Winners?
Southern favorite Raising Cane's is the most popular regional chain nationally, with top ratings in 3 of our 4 regions and with 20 campuses (including UH Manoa). This top "regional" pick has spread across the country and lives in a space between regional and near-national.
The chain does have locations in the Northeast but doesn't take home any top prizes there yet.
Raising Cane's may not be northeastern students' favorite because they've got another chicken restaurant in mind: Wings Over. The Massachusetts chain got a reboot from its Ithaca customers, a group of college friends who bought their local hangout in 2017, then took over the entire franchise. They must be doing something right, because 8 college towns from State College, PA, to Burlington, VT, are going wild for their wings.
Other notable regional comfort foods go well beyond chicken.
For example, if you've ever asked yourself how much chili and cheese you can cram on top of your bowl of spaghetti, you might be from the Midwest. Head over to Ohio's iconic Skyline Chili (you can also pile it atop your fries).
If mac and cheese with fried catfish and corn on the cob reminds you of home, you'll want to hit up Door Dash like students from the University of Mississippi and UAB Birmingham do, loading up on dishes from Captain D's.
Regional Restaurants are Grilling Up Success with Burgers
Of our 149 total schools, 44 schools (30%) voted a burger restaurant as their regional favorite.
Cook Out was the runner-up for the most regional number ones. This southern staple, which scored ten top ratings, can serve you a bacon cheeseburger ($4.38) for barely over half of what you'll pay at Five Guys ($8.69).
This burger franchise out of North Carolina has wallet-friendly prices (you can still get a hot dog for .99 here) and tons of options to keep all your roommates happy (barbeque, chicken wraps, burgers, hot dogs, and a Cheerwine float with the southern classic cherry soda? Can do). Wash it all down with one of over 35 milkshake flavors.
West coasters have their own iconic burger joint. In-N-Out has been winning popularity contests for years, serving up a limited menu and tourist-worthy t-shirts to students since the 1940s. Unlike Cook Out, your shake selection is limited (chocolate, vanilla, and strawberry). There's no bacon. And your vegetarian roomie will be stuck with a burger-less grilled cheese and fries. The upside? It's about as budget-friendly as you'll get in the most expensive state in the nation: a cheeseburger combo goes for $5.65.
In the Pacific Northwest, Oregon's Burgerville wins over OSU students (and they claim Sasquatch, too), while UW Seattle students line up for Dick's irresistible burgers.
In the Midwest, Culver's reigns supreme. At Mizzou Columbia, South Dakota State, Iowa State, and Ball State, students go crazy for their ButterBurgers, fried cheese curds, and milkshakes (you can get a bacon deluxe single for $3.49, or a single cheeseburger value basket for $7.59).
College Towns Love Local (Fast Food)
We looked at national, regional, and local faves, and it's clear that hometown favorites are winning students' hearts.
While not a single national or regional favorite scored 5 of 5 stars on Yelp, three standout local favorites did, showing that independent eateries are often the favorite of locals no matter what other fast options are available.
Here are the most popular:
Hit up 5th Street Burger & Fries, near Arizona State. This 2021 newcomer, started by two friends as a delivery service during the pandemic, gets 5 out of 5 stars in Yelp ratings. It's also got enough sauces to drown your midterm troubles. From maple aioli to ranch and buffalo sauce, students can replace their academic sorrows with a taste bud party.
After you've wiped the sauce off your chin, jump on the highway and head over to UC Riverside for your next 5-star meal. Veg & Go serves up pea protein burgers, poppers, and vegan wings, with a side of alien lore and a kombucha. Leave your guilt behind: it looks like the junk food of your past, but it's all plant-based.
You can also grab plant-protein tacos at the other 5-star contender, but you don't have to. Chicagoans don't even need to attend UIC Chicago to be spoiled for choice at nearby Mimi's, with everything from jerk chicken tacos to broccoli bowls, burgers, and even loaded tater tots.
What are local fast-food chefs cooking up near your university? Check out this table with all our findings:
New Fast Food Restaurants are Taking Over College Towns
You're not imagining it. New fast-food chains are moving into college towns, from Blaze Pizza to Firehouse Subs and Pita Pit. They're not much older than the students themselves, and many of them weren't even around when today's college students got their first smartphones.
We found the age of a fast-food empire is no obstacle to dominating the ratings in college towns. After all, an innovative new fast-food option and students with a limited budget are a match made in heaven. Some of the biggest names in fast food, like Pizza Hut, Jimmy John's, and Chipotle, built their early success with college students. Today's contenders are just following in the footsteps of some of the most successful alumni that came before.
So while old fast-food industry favorites still win college students' votes, the most popular campus fast-food places are increasingly a new generation of businesses, grabbing high ratings by offering cheap, awesome meals on the go. Maybe it is possible for today's students to have it all.
Methodology
This analysis of the top fast-food restaurants for college towns utilizes a combination of Yelp data and the U.S. News ranking of Top Public U.S. Colleges.
How we selected the 144 Top U.S. Public Colleges:
We started with a list from U.S. News of the 120 top public schools in the U.S.

For states without at least 2 colleges listed in the top 120, we selected the highest ranking college according to the U.S. News ranking. If there was not a 2nd university for the state included in the ranking we selected the 4-year public university in the state with the next highest undergrad population.

Each state had a minimum of 2 universities representing their state, with the exception of Wyoming because there is only one 4-year Public University in the state.

Total count of colleges 148 = 120 (initial top list from U.S. News) + 28 manually added

4 colleges did not have National fast-food restaurants within a 2-mile radius (via Yelp): Castleton University, UC Merced, University of NH, and University of RI.
How we selected the most popular fast-food establishments:
We collected a list of fast-food establishments listed and rated on Yelp within a 2-mile radius of the university address.

We divided these fast-food restaurants into national, regional, and local categories and removed any restaurants with less than 10 reviews.

To select the most popular, we chose the restaurant with the highest rating. When there was a tie for the top-rated, the restaurant with the most reviews was selected as number one most popular.